There is a lot. Bear with me.
For Review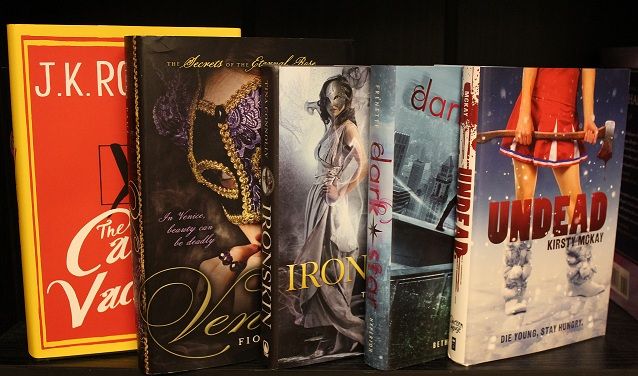 Casual Vacancy – J. K. Rowling
Venom – Fiona Paul
Ironskin – Tina Connelly
Dark Star – Bethany Frenette
Undead – Kirsty McKay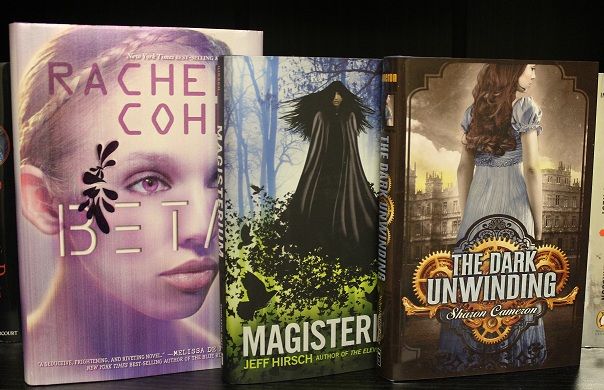 Beta – Rachel Cohn
Magisterium – Jeff Hirsch
The Dark Unwinding – Sharon Cameron
Thank you Hachette Canada, Scholastic Canada Penguin Canada and Tor/Forge
Gifted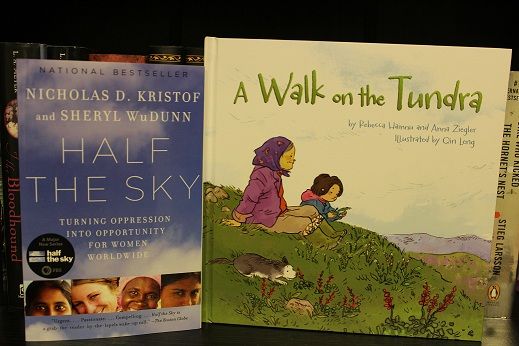 Half the Sky – Nicholas D. Kristof and Sheryl WuDunn (Thanks Rossi)
A Walk on the Tundra – Rebecca Hainnu and Anna Ziegler (Thanks Vancouver Children's Lit. Roundtable)
Purchased
(Signed)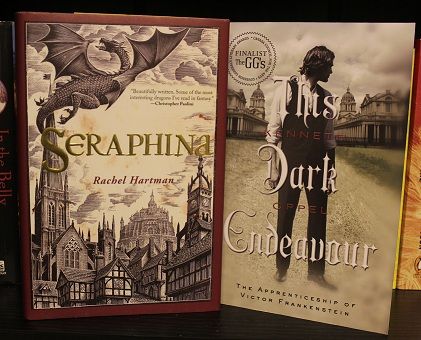 Seraphina – Rachel Hartman (met her at Word on the Street)
This Dark Endeavour – Kenneth Oppel (met him at Roundtable event)
Sales etc
- The Ghost Child – Sonya Hartnett
- Midsummer Night – Freda Warrington
- Among Others – Jo Walton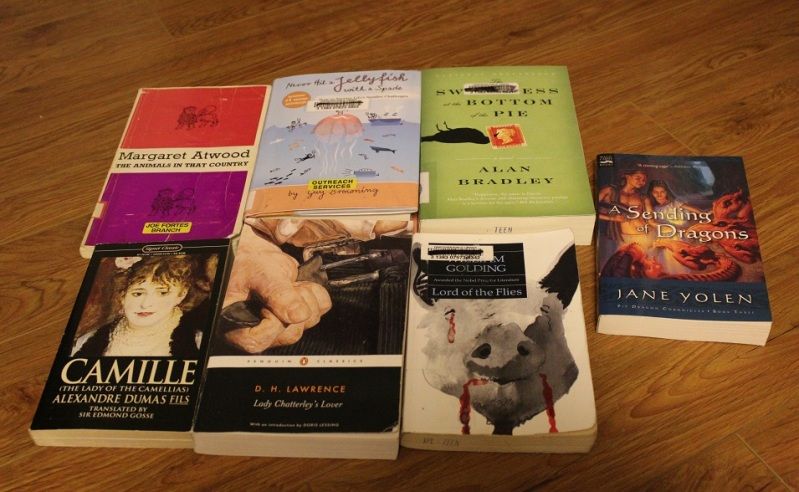 The Animals in that Country – Margaret Atwood
Never Hit a Jellyfish with a Spade – Guy Browning
The Sweetness at the Bottom of the Pie – Alan Bradley
A Sending of Dragons – Jane Yolen
Camille – Alexandre Dumas
Lady Chatterley's Lover – D. H. Lawrence
Lord of the Flies – William Golding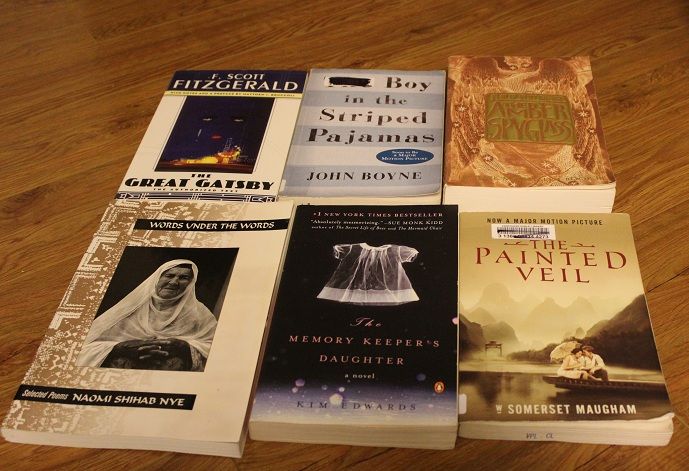 The Great Gatsby – F. Scott Fitzgerald
The Boy in the Striped Pajamas – John Boyne
The Amber Spyglass – Phillip Pullman
Words under the Words – Naomi Shihad Nye
The Memory Keeper's Daughter – Kim Edwards
The Painted Veil – W. Somerset Maugham
The Absolutely True Diary of a Part-Time Indian – Sherman Alexie
Godmother – Carolyn Turgeon
The Cinnamon Peeler – Michael Ondaatje
Bloodletting and Miraculous Cures – Vincent Lam
Tales from Firozsha Baag – Rohinton Mistry
Rivers of London – Ben Aaronovitch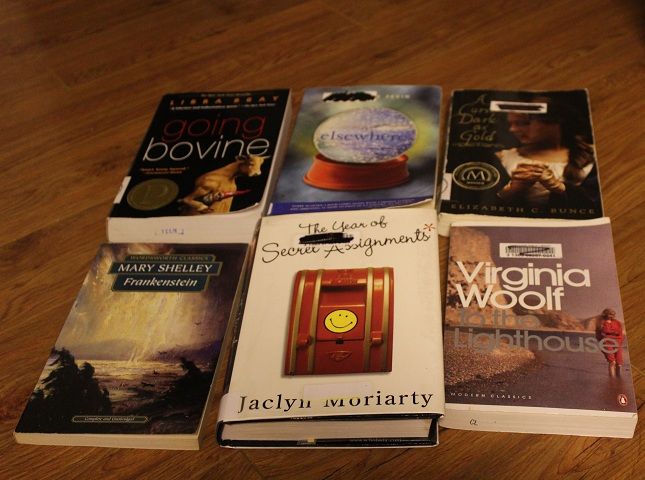 Going Bovine – Libba Bray
Elsewhere – Gabrielle Zevin
A Curse as Dark As Gold – Elizabeth C. Bunce
Frankenstein – Mary Shelle
The Year of Secret Assignments – Jaclyn Moriarty
To The Lighthouse – Virginia Woolf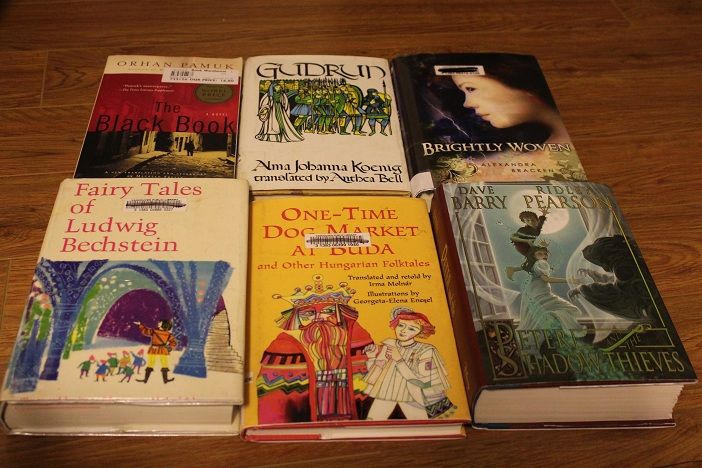 The Black Book – Orhan Pamuk
Gudrun – Alma Johanna Koenig
Brightly Woven – Alexandra Bracken
Fairy Tales of Ludwig Bechstein
One-Time Dog Market at Buda and Other Hungarian Folk Tales
Peter and the Shadow Thieves – Dave Barry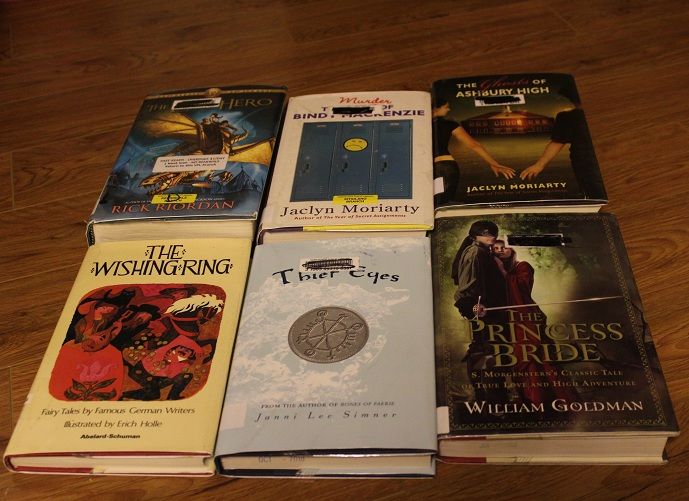 The Last Hero – Rick Riordan
The Murder of Bindy Mackenzie – Jaclyn Moriarty
The Ghosts of Ashbury High – Jaclyn Moriarty
The Wishing Ring – Erich Holle
Thief Eyes – Jenni Lee Simner
The Princess Bride – William Goldman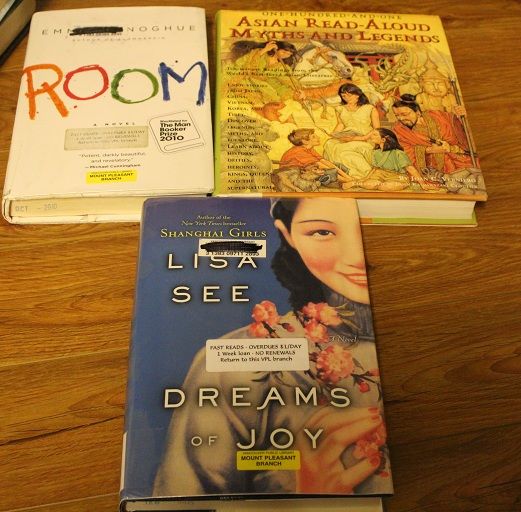 Room – Emma Donoghue
Read Aloud Myths and Legends – Various
Dreams of Joy – Lisa See
Phew! What was your haul?