I didn't splurge too much this month but I did get some really awesome books I am excited to sink my teeth in. Some of them, I have read and wanted for my collection.
For Review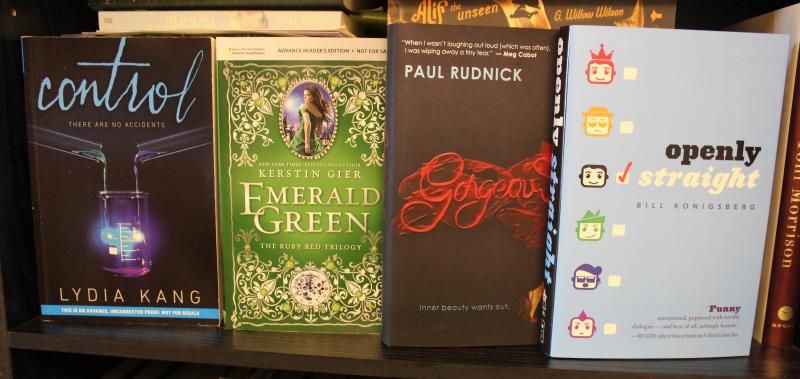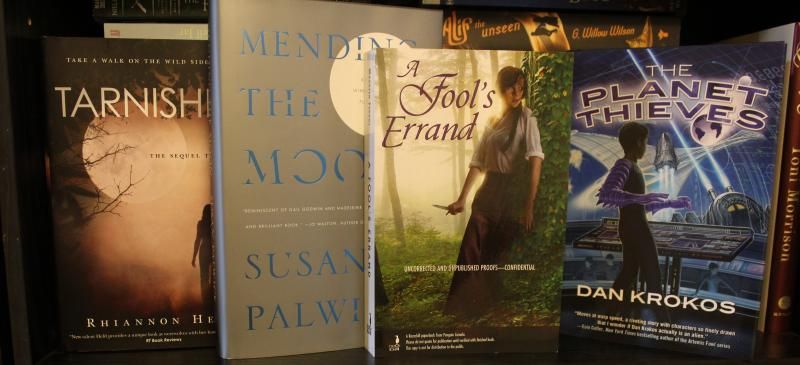 I'm excited to read Control both because of its author and the content. Emerald Green I have already read and loved. Review will be posted closer to release date. Gorgeous and Open Straight were both unsolicited copies from Scholastic Canada as were Tarnished, Mending the Moon and The Planet Thieves which were sent by Tor. A Fool's Errand, the second one in Maureen Fergus's Gypsy King series was sent by the publicist after I, you know, asked her for it. I'm quite excited about that one.
Gifted
Twilight, I bet some eyebrows rose at the book considering I haven't made my disdain for it a secret. But it was given to me by friends in the MACL program because I'm going to be using it in my thesis and they found a secondhand copy at a thrift store. Zach's Story was published by the CWC Society that I do editing work for and this is a student story that won a prize and they had it bound and illustrated. It's a holocaust book and while I don't know the literary merits of it, it's quite beautifully bound.
Purchased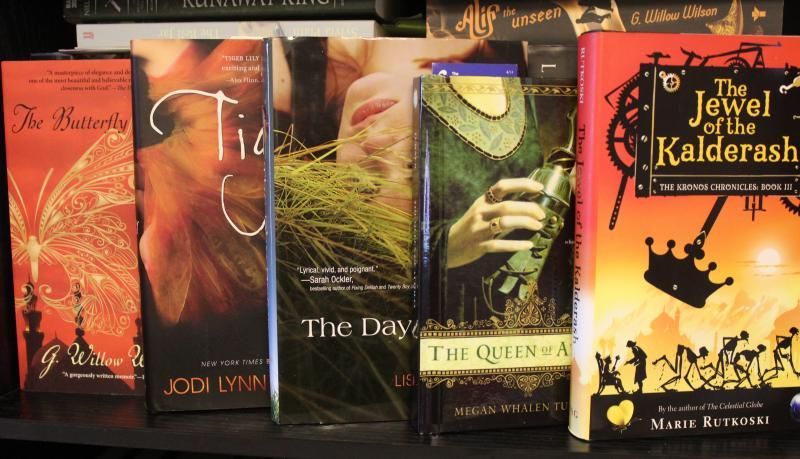 The Butterfly Mosque by G. Willow Wilson
I've been meaning to read this one for ages and I finally couldn't resist it so I bought it!
Tiger Lily – Jodi Lynn Anderson
I've read this and adored it even though it broke my heart to so many pieces.
The Day Before – Lisa Schroeder
Read this one too and adored it so when I found it at a thrift store in new condition, I snatched it up for my collection.
The Queen of Attolia – Megan Whalen Turner
I'm a bit sad that the first two hardcovers don't match the latter ones but now I have the first four, though I know two or more are still in the works. But since each book is a complete story on it's own, I'll probably start reading this sooner rather than later.
The Jewel of Kalderash – Marie Rutkoski
Rutkoski is a good writer, this much I knew, so I was utterly bemused by the insanity that was The Shadow Society. But that aside, I have now the complete trilogy and can read the second and third books. Eventually.
These all the books I got for this month. What's new on your shelves?
——————————————————-
Now for the wrap up! 39 books read this month. They are, in no particular order,:
The Hallowed Ones – Laura Bickle
The Murmurings – Carly Ann West (ergh)
Transparency – Frances Hwang
Chantress – Amy Butler Greenfield
White Crow – Marcus Sedgwick
Basho and the Fox – Tim J. Myers
The Reluctant Dragon – Robert D. San Souci
The Ladder – Halfdan Rasmussen
Zen Ties – Jon J. Muth
The Ruby in the Smoke – Phillip Pullman
All Our Yesterdays – Cristin Terrill
The Girl with the Silver Eyes – Willo Davis Roberts
The Bitter Kingdom – Rae Carson
Spirit and Dust – Rosemary Clement-Moore
The Burning Sky – Sherry Thomas
Golden – Jessi Kirby
Love Among the Particles – Norman Lock
Zenn Scarlett – Christian Schoon
What I Did. – Jason
Outcast  – Adrienne Kress
Goodbye Tsugumi – Banana Yoshimoto
The First Escape – G. P. Taylor
Good as Lily – Derek Kirk Kim
Handbook for Dragon Slayers – Merrie Haskell
Fragments – Dan Wells
Courtney Crumrin and the Night Things – Ted Naifeh
You Don't Know Me – David Klass
Night of the Gargoyles – Eve Bunting
The Pirate's Wish – Cassandra Rose Clarke
Emerald Green – Kerstein Gier
The Sweet Dead Life – Joy Preble
India Black – Carol K. Carr
Bind Willow, Sleeping Woman – Haruki Murakami
The Shambling Guide to New York City – Mur Lafferty
Enchanted Inc. – Shanna Swendson
Mountain Echoes – C. E. Murphy
The Tiny Wife – Andrew Kaufman
Lady Lazarus – Michelle Lang
The Runaway King – Jennifer A. Nielson